How your Community Group can engage with Camp 75
How can my Community Group get involved?
Every summer, our amazing groups come forward and ask how they can partner with, get involved with, and serve Camp 75. The first way you can do that is by partnering with our students. This is meant to be a guide to empower your group be involved with Camp 75, starting with partnering with a student.
Sponsor Individually
Have someone collect up front and give as a group to sponsor a student's registration.
Have member's give individually towards student's camp registration. This link will be roughly 10% of a student's registration, but you can give any amount.
33 is a really important number. Find out why:
You've got questions.
We've got answers.
FAQ's
Community Groups
Have any more questions
---
Email us at camp75@npaustin.com! We'd love to answer any questions you may have.
---
"I'll help if you need me this year."
---
The answer to this statement or question is that you're needed! The growth we've experienced as a church is absolutely amazing, and to serve and love our community and our students, your engagement is essential. Whether that's sponsoring a student, hosting or driving, or serving as a group, your involvement is essential.
---
What does it cost for a student to attend Bootcamp?
---
It costs $369 for a student to attend Bootcamp and Camp 75. Over the course of two weeks, this provides 4 nights of overnight at camp, charter bus transportation to and from, over 20 meals, leadership development trainining, curriculum, and materials, and all of the other intangibles that Camp 75 provides.
---
Where can I find an overview of Camp 75?
---
Here's a video where our Camp 75 director explains Camp 75 in a nutshell.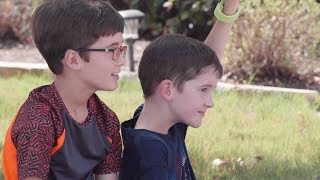 ---
Is financial assistance available for students already?
---
Our entire financial assistance fund is fundraised. If a student approaches us in need of discounted registration, we can only distribute funds if we've already raised those funds. Typically around 15-20% of our students request some form of need-based financial assistance. We can only provide funds to students for as long as the funds are available.
---
---